By Philip Kay
While vacationing in Europe, I see an advertisement for the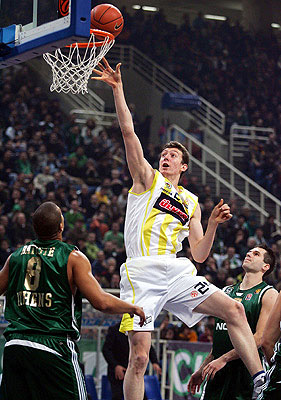 Germany-Turkey friendly and automatically think of Omer Asik. I've never seen him play in live action before, so I obviously was pretty excited.
When I first see Asik, I look at his size. Tall guy, but he needs to bulk up as we all know. It looks as if he's been working on his shoulders, but there needs to be more muscle. He's going up against Tibor Pleiss, Oklahoma City's second round pick of this years draft.
The game starts and Asik scores the first 8 points for Turkey.  The first 6 points come off pick and rolls or being left open under the basket. The next 2 points were the ones that impressed me the most. Asik had the ball at the perimeter and blew by Pleiss for a dunk. This looked exactly like Brad Miller's move where he'd drive by his guy and get a layup(in Asik's case, a dunk), except in fast forward. Germany calls a timeout.
Shortly after the timeout, Turkey gets a steal and fastbreak opportunity. Asik runs up the court, gets the pass and starts dribbling to the basket to dunk it. Play gets broken up though, the pass to Asik was a backcourt violation, but Asik still displayed his quickness and ballhandling skills on that play.
The first quarter is over and Turkey has the lead. Asik does not play in the second quarter for no specific reason, and Germany starts running away with the game. Turkoglu looks bad and is at least 10 pounds overweight.
In the second half, he gets more playing time, but the game is already lost. He adds 5 more points and finishes the game as the best turkish player with 13 points, 2 rebounds, and a block. The Germans win the game 68-54 despite not having Dirk Nowitzki.
Asik probably won't be ready to contribute for the upcoming NBA season, but he has the potential to be a solid player. He's very fast for a center and has some nice ballhandling skills. He has a nice spin move with his back to the basket and is good at rolling to the hoop. He really just needs to bulk up and keep learning the game. At the moment his strong is too weak for the league. His rebounding didn't seem great, but not horrible either. Expect above average rebounding from him.
Hopefully Asik turns into the player we all envision him becoming, if not it was only at the expense of a second rounder.